I know what you're thinking. "Cruising is for old people." "Cruising is expensive." "Cruising is not for geeks like me." Oh, ye of little faith. Let me introduce you to the wonders of cruising… GEEK STYLE!
Geek Themed Cruises
If you are ready to move forward full-throttle into cruising, consider checking out a geek cruise. We got sci-fi / Star Trek, superheroes, zombies, Harry Potter, and more general themes like the ConVoluted CON Cruise, Jonathan Coulton's JoCo Cruise, and Fan2Sea Comic Com Cruise. Imagine the pool parties, live shows, and dance clubs surrounded by like-minded geeks in cosplay and maybe even a few special guests. (Themed cruises are known for inviting along actors, musicians, etc.) It's like a con on water, YAS.
However, just like your favorite con, remember: themed cruises are only offered once or twice a year on set days AND they sell out quickly. Have your heart set on one? Just do the usual and follow all their social media accounts, sign up for email lists, etc., so you can hear about it as soon as they announce it and start selling tickets. At least you can do it all from the comfort of your laptop and not sitting on dirty concrete outside of a movie theater desperately hoping to get tickets for the 12:01 a.m. showing… ahem.
Geek a Muggle Cruise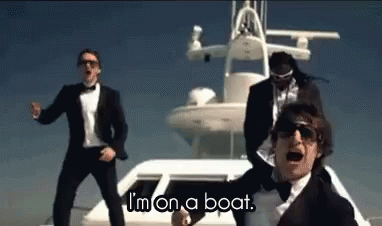 When a themed cruise is out of reach, don't let that stop you from turning a regular cruise into something more your style. The key to bringing the party with you is organizing a trip with a group of your friends. Trying to keep the costs down? The cheapest rooms are generally the interior state rooms which hold two single beds (or pushed together to create one king bed), so grab your BFF or existing roomie and call it Cruise Camp.
Once you have a group booked, you can also request seating together at dinner. The trick is to go with a reserved dining time (you go to the same table every night at the same time) instead of the popular "your way" dining (you go whenever you want and get whatever table they give you, which may mean waiting with a pager like at a typical land restaurant). To up your chances of all your friends getting seat assignments at the same table:
Book early

. The earlier you make your reservations, the more likely you are to get your requested dining time.

Request the later dining time

. The earlier dining time is popular with families and can fill up quickly, making the later dining time easier to get into because there are more openings.

Call the cruise company

. If you don't get your first requested dining time or can't get everyone together, you can call the cruise company and they may be able to help. No worky, no worry. They can also put you on a wait list and suggest you talk to the restaurant manager when you board for a last minute hail-mary.
To really up your party on a boat, you can purchase party packages for groups of 20 or more which include reserving a special lounge or meeting room as a private event just for you and your friends. Just make sure you request this as early as possible as party reservations are on a first come, first served basis. Even if you don't have the money or the reservation, you can still cosplay mob the karaoke bar… and make every other guest wish they could cosplay karaoke, TOO.
Preparing Yourself for Your Geekalicious Cruise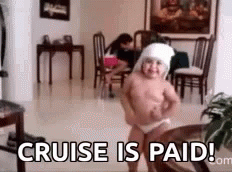 You've got the cruise booked, woohoo! Now it's time to make sure you're prepared for what to expect. Keep these things in mind when ramping up for your next cruise trip.
Luggage.

Cruises regulate luggage just like the airlines do, although they aren't as strict about size because you aren't having to fit anything into an overhead bin. Check the restrictions before you pack, especially if you were planning on prowling the decks in an extra-large costume. Oh, yeah, and the rooms and closets are, ah,

cozy

, so you have to share living space with that huge helmet, too.

Prohibited Items.

Speaking of helmets, review the list of items that aren't allowed on board before you plan your next costume. You'll have to nix anything that uses weapons, even costume / fake weaponry, and candles. Also plan on leaving the alcohol at home, which is mitigated by the presence of multiple bars on board.

Power Outlets.

Cruise rooms are known for not having many electrical outlets because they don't want you sucking up a lot of juice that they need to drive the ship. Hey, that's fair. To help with this, I strongly recommend battery back-ups and making sure your electronics are as fully charged as possible before you leave. Also, some cruises have restrictions on extension cords (only for medical equipment) and power strips (not allowed at all).

Internet.

Most cruises have internet hubs where you can use a public computer to check your email and Facebook (oh, man, the idea just makes me cringe) for free when there is a signal. Yes, sometimes there is no signal. You're on the water and possibly in a foreign country with roaming charges or no signal at all. However, it is becoming more popular for some cruise lines to offer wifi packages for purchase on select ships. w00t! They are pricey, but they will satisfy your social media cravings. They will not, however, satisfy your streaming cravings, as most cruise lines don't allow streaming services such as Hulu and Netflix because they use too much bandwidth. 

NOTE: Wifi access on cruises is typically satellite-based and varies greatly depending on a) where you are in the world and b) any natural obstacles. For instance, a cruise in the Caribbean can be decent (fairly clear weather and no tall land masses), whereas a cruise in Alaska is very spotty (cloudy weather is common and mountains frequently block the signal). Don't let that deter you from an awesome destination; just keep it in mind when planning!

Entertainment. Thanks to the lack of streaming services, you'll need to get your fix for your favorite movies and t.v. shows by downloading them to your tablet, computer, whatevs, before your trip. And don't plan on watching the ship t.v., as it tends to use satellite and pick up whatever is local. On the plus side, they do rotate their movies on a movie channel… and don't forget room service for those midnight munchies in your jammies.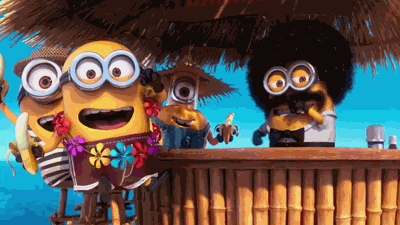 Ultimately, though, cruising is about having adventures in places you may never otherwise visit, trying new dishes you may never be able to afford, and doing all of your relaxing and partying while someone else does the driving for you. For those of you lucky enough to do all that with your favorite geeks, you will make some amazing memories. Pics or it didn't happen!!
Happy sailing!
Featured image credit: startrekthecruise.com