Ever since the announcement that Warner Bros. was going to produce a romantic comedy with an ALL ASIAN CAST directed by an Asian American director (woohoo Jon M. Chu!), I geeked out hard. And to top it off, my favorite actress from ABC's Fresh Off The Boat Constance Wu was going to lead the film Crazy Rich Asians. I knew that I had to see this film the day it released. As an Asian American woman who loves TV and film, I can finally see a rom com that featured another Asian American woman.
Originally, I thought I'd see this Crazy Rich Asians on Aug. 15, but luckily thanks to the creepy magic of social media marketing algorithms, I saw an ad for EARLY SCREENINGS of Crazy Rich Asians (courtesy of Fandango) and I hit up my friend and fellow geek gal Maria Jennine and told her we HAD to go see it on Wednesday, Aug. 8.
Official synopsis
Crazy Rich Asians follows New Yorker Rachel Chu (Constance Wu) as she accompanies her longtime boyfriend, Nick Young (Henry Golding), to his best friend's wedding in Singapore. Excited about visiting Asia for the first time but nervous about meeting Nick's family, Rachel is unprepared to learn that Nick has neglected to mention a few key details about his life.
Not only is he the scion of one of the country's wealthiest families, but also one of its most sought-after bachelors. Being on Nick's arm puts a target on Rachel's back, with jealous socialites and, worse, Nick's own disapproving mother Eleanor Young (Michelle Yeoh) taking aim. It soon becomes clear that the only thing crazier than love is family, in this funny and romantic story sure to ring true for audiences everywhere.  
Commentary
Warning: There are minor spoilers ahead.
This film is monumental for Asian people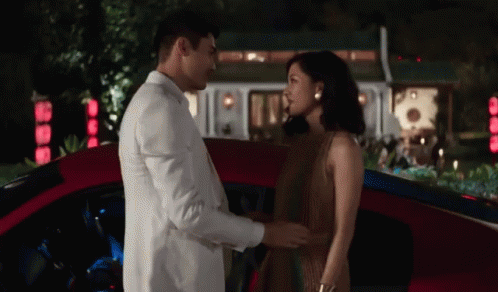 Ten minutes into watching Crazy Rich Asians, I realized something: I was watching a film starring Asian characters who were NOT just the supporting or minor characters, who were NOT doing martial arts, who were NOT just doing accents, etc. I was watching a film that is trying to normalize the romantic comedy genre for Asian people in the U.S. For too long now, rom coms only featured white people. Why didn't Hollywood hire any Asians before? You'd heard the reasons: Asian actors can't bring in money, Asian actors all look the same, Asian actors look emotionless, etc. This film was monumental in its movement to portray Asian people without the stereotypes we have always seen to this day. Asians are people with real problems; they have stories too, stories worthy of the big screen.
The humor was on point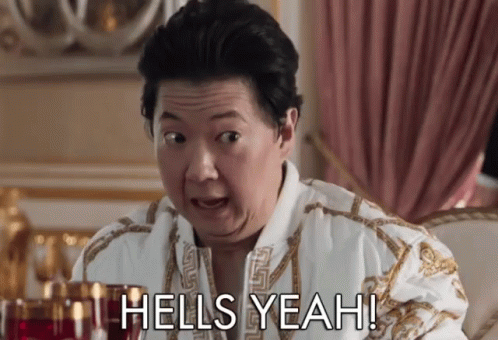 I completely forgot that comedian Ken Jeong was starring until he appeared in the welcoming preview before the film began. Jeong played Peik Lin (Awkwafina)'s father Wye Mun and they both had the best jokes. Peik Lin was "Asian Ellen" with her fabulous quirky outfits and her short blonde bob hair. Jeong was the funny dad who reminded his little twin girls to "eat your chicken nuggets" because "a lot of children starving in America."
We get to see everyone's lives, not just the main characters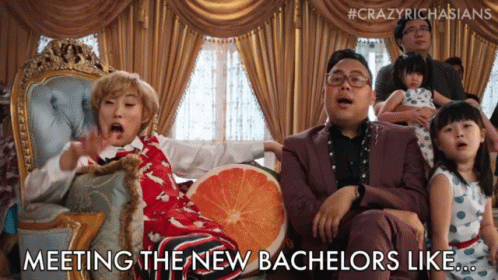 I enjoyed seeing snippets of the lives of the family members. Nick's family is HUGE and we get to know his cousins and their families. One cousin from Taiwan is head over heels for this actress. One cousin from Hong Kong is a businessman who unfortunately speaks for his wife and trains his sons to face the camera with their best side (in a comedic way in the film, but take a step back and you realize the whole thing is quite disturbing). One cousin Astrid (Gemma Chan) is from Shanghai and she loves to shop but her husband Michael hates it and their marriage isn't doing great. Another cousin Oliver (Nico Santos) befriends Awkwafina and together they are a dynamic duo for Rachel.
Peik Lin's family was my favorite. They were still hella rich but not as "crazy rich" as Nick's family, as the Youngs were from "old money" in Singapore.
The film was sympathetic to the struggles that Asian Americans come across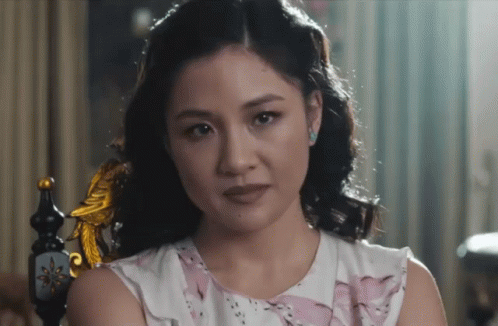 There is a stereotype bias against Asian Americans from Asians: If you're not from the mother country, you're a "banana": yellow on the outside, white on the inside. You're not seen as "Asian" by other Asians from X or Y countries, you are instead seen as an outsider… Ringing any bells? This hit home when Rachel was meeting some of Nick's family members, including his mother Eleanor.
Speaking of Eleanor… In the opening scene, set in 1995 London, Eleanor arrives to the hotel with her mother and son and the front desk people, as soon as they realized she was Asian, refused to show her to her room. This spoke too close to home. Racial discrimination like this continues to take place. Just last year, we heard of an Airbnb host canceled a guest's reservation because the guest was Asian.
Eleanor Young isn't really a "villain": she's a complex, enduring woman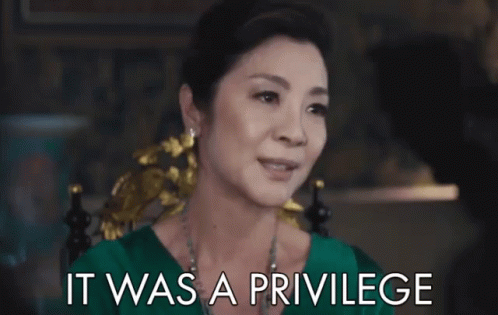 Michelle Yeoh played a great "villain" to Constance Wu. The disapproving mother had her reasons and it is realistic to see Asian immigrant mothers be super overprotective of their children. Eleanor was against Rachel since day 1, yes, and she says awful things to her, but there was so much more to her story and recalling the opening scene really puts the pieces together when you get to the end of the film.
The impact of 'Crazy Rich Asians' on the actors, fans
The following embedded posts from social media are just the tip of the iceberg of how the actors have responded to the reaction from critics and fans. Constance Wu tweeted a letter about how meaningful the Crazy Rich Asians experience was for her.
https://twitter.com/ConstanceWu/status/1024449682766852096
https://twitter.com/awkwafina/status/1023282507209498629
Conclusion
So what are you waiting for? Go see the movie! You do not have to be Asian American to enjoy this film. If you have immigrant parents, regardless of your economic or social status, you'd understand this film's backbone and appreciate the characters. This is a film that Asian Americans have needed for a long, long time.
You can also read the book by international best-selling author Kevin Kwan (it is a trilogy, yo!). It's definitely going on my to-read list. 
Featured image credit: Warner Bros.