Deedee Magno Hall, who voices Pearl on Steven Universe, took to the stage to deliver her Pearls of Wisdom panel at ConnectiCON last weekend. She talked about her career and also the mechanics of the show's production through audience questions.
A Varied Acting Career Brings Her To An Iconic Role
Magno Hall opened that she had been to Hartford several time on touring musical productions including Miss Saigon, Wicked, and If/Then. She also was sure to mention that she met her husband while performing in Miss Saigon. Her first television gig was the New Mickey Mouse Club, and she also was part of a singing group called The Party opening for Taylor Dayne, Color Me Bad, and Vanilla Ice.
I know that I aspired to voice for a cartoon since I was really little watching all the Disney movies with all the musicals especially. My background is singing. I love to sing, I've been singing since ever since I can remember…I gravitated to roles that were singing roles, although I like doing everything.
She mentioned she had auditioned for hundreds of roles but landed none. But then Steven Universe came along. "I had no idea what kind of show this was. All I knew was that Pearl was adorable, and that she was sort of like a motherly figure type, but that sort of grew into something much more throughout the series…and that it was musical. That I had to sing for my audition."
She emphasized that show creator Rebecca Sugar was the first woman to create and run a show on Cartoon Network. Sugar wanted everyone to use their own voice. "Pearl is simply my own voice, obviously an extension of it and maybe a more exaggerated emotional version of it."
Originally, Magno Hall had auditioned for Sadie on the show in addition to Pearl. "Sadie's got such a fun, fun role. She's like the king because she's perfect." Needless to say, the two characters were very different, but she soon had the iconic Pearl role.
In The Booth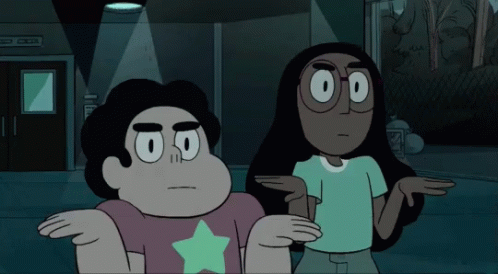 Due to their schedules, the cast is rarely in the same recording session. Magno Hall said Estelle (Garnet) was traveling due to her superstar status. Michaela [Dietz] (Amethyst), Zach [Callison] (Steven), and her were in the studio together. When Magno Hall went on tour with the musical If/Then for two years so she recorded her lines remotely in whatever city she was in. "Typically we like to record together. Just because we get that vibe, the energy, we have that back and forth, and we get to play with each other. Also the effort sounds…which are fighting noises, imagine the sword swinging, the sound that your body will make trying to thrust this sword. It's like a 'UH!' or maybe Amethyst is jumping so Michaela would be here, I would be on this microphone, and then Zach and then Estelle if she's here and we'd just go along the line."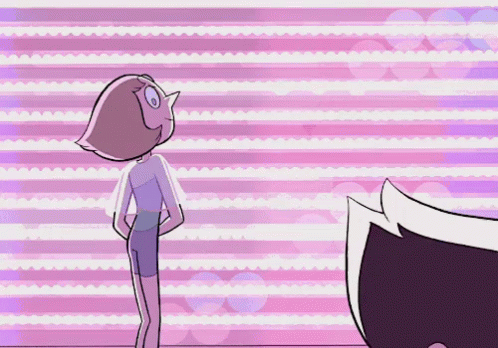 She provided even more details about the process and what happens when a crystal gem isn't in the room. "We often take at least three takes of every line. So we'll start from the beginning, everybody will go through the script and if a character is not present, Rebecca or Kent Osborn who is our Line Director, or some of our writers will step in for the character which is hilarious because they don't sound anything like them but we have to react to their read…Oftentimes we'll do one take from start to finish. Then we'll go back and each of us will do at least three takes for each line. And then in the editing process they'll take whichever fits the drawing best."
Being Pearl though comes with challenges! "All the time," Magno Hall admits. "Pearl's character…her lines are so wordy and words that I'd never probably say in my life. Especially with real long words. In fact I have trouble saying compartmentalizing. There I just said it!…When she goes into description about Homeworld, and when she gets into technical details of things, it's a mouthful for me honestly." She added that she has trouble with names.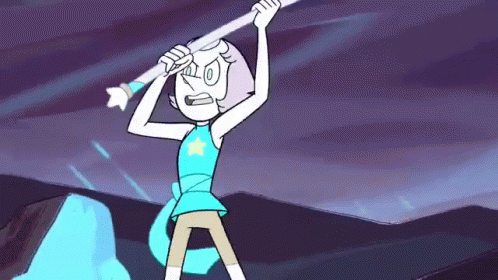 Pearl isn't the only character that Magno Hall has voiced in the show, though several were similar including Yellow and Blue Pearl which she enjoys doing immensely. "It's so fun…I feel like the only voice everybody knows me as is Pearl, so Rebecca wanted to switch it up with Yellow and Blue. She asked me specifically if I could do squeakier like telephone operator…so that's how Yellow Pearl was developed…for Blue we were thinking like a Betty Boop and like a Marilyn Monroe mash…and then I also did the ticket booth girl Jane…and then I sang as the hot dog with Uncle Grandpa."
A Career Goes On
Magno Hall continues to seek out television, film, and musical theater roles during her time on Steven Universe admitting she has tried to get into Hamilton several times. Recently she was in a show called Next to Normal. She added everyone else pursues their career outside the show as well. To the crowd's delight, she also was open to voicing an anime character.
Continuing the Hamilton reference's Magno Hall sung a rendition of The Schuyler Sisters with Susan Egan (the voice of Rose Quartz) and Liz Callaway.
Featured image credit: Cartoon Network